Open Baffle system
It is a system based on the Open Baffle technology, which includes 3 speakers per channel (2 full range 4-inch speakers mounted on a 30cm by 150cm open baffle, and a 10-inch Low-mid Sub cone mounted on a "H frame "), both speakers are driven by 2 L + R amplifiers (one per channel) driven in turn by a DSP on which, via software, instructions are given regarding Cross-Over, and environmental correction if necessary..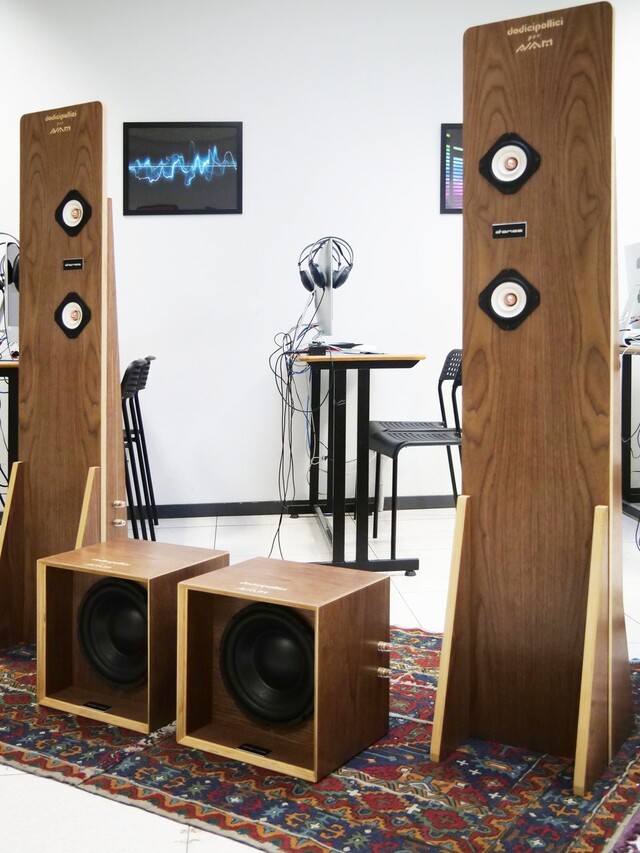 The listening produced by this small system is "dipolar" and gives the feeling of being enveloped by the emission, since it is not as directed as that produced by common listening systems.
This condition, plus the absence of a tweeter (device prone to vary its polar emission based on frequency) makes listening particularly intelligible.
Furthermore, the absence of a box to isolate the individual speakers creates an extraordinary dynamic capacity.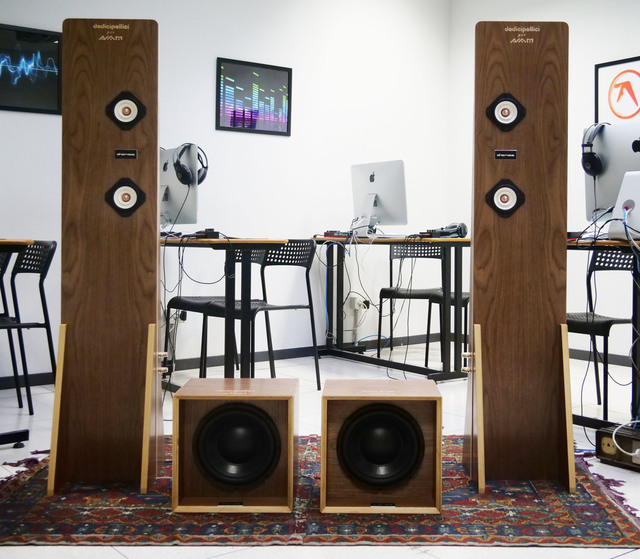 The combination of these circumstances means that the system interacts with the environment in which it is placed in a much more constructive manner, not pressurizing it, as traditional devices do.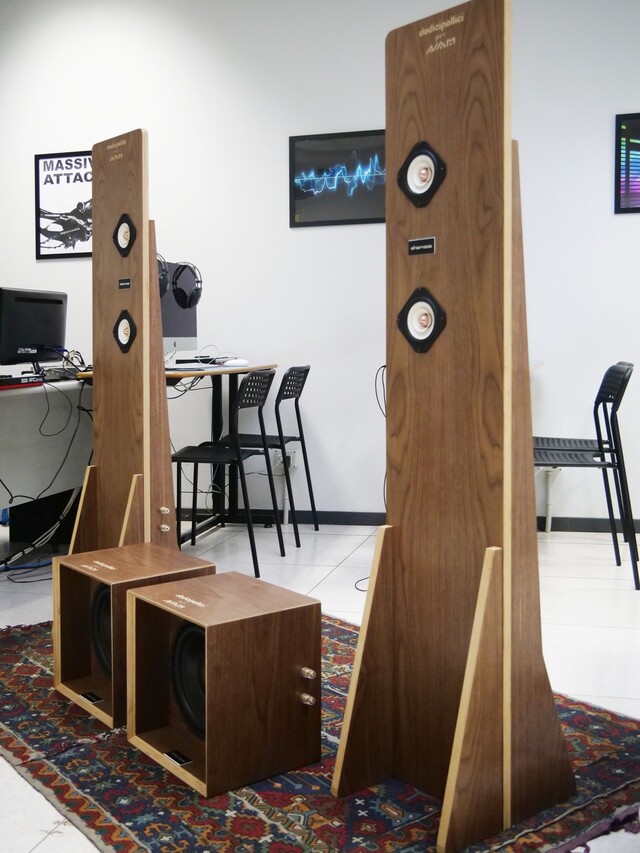 We can therefore classify this as a "light" listening that does not tire the listener, and puts him in a position to be able to make the right choices, if it is used to mix songs of any genre.
The system bandwidth extension is related to the capacity of the devices in use, in this case it ranges from 20KHz to 40Hz, without any compensation curve being applied to it.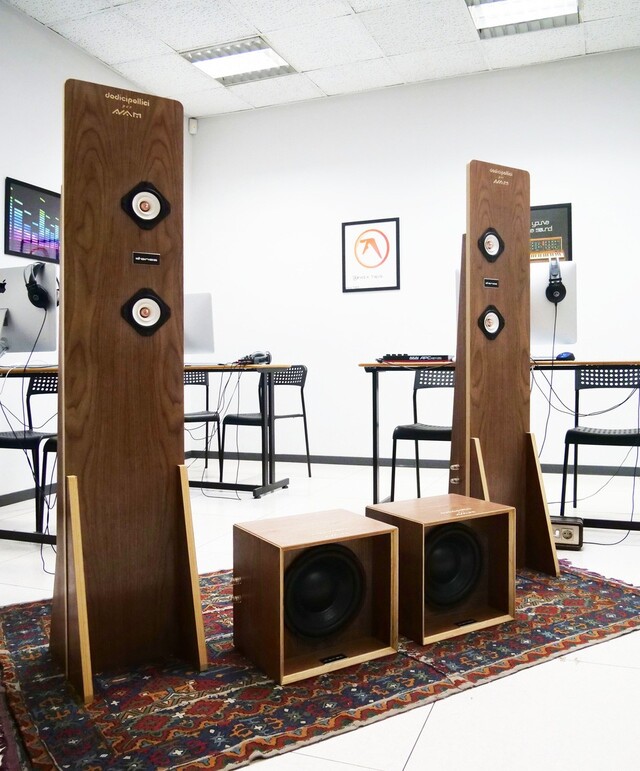 The system was designed using a special simulation software by Michele D'Anca, a well-known engineer of devices for the recording studio and NAM teacher of physics of phonotechnics.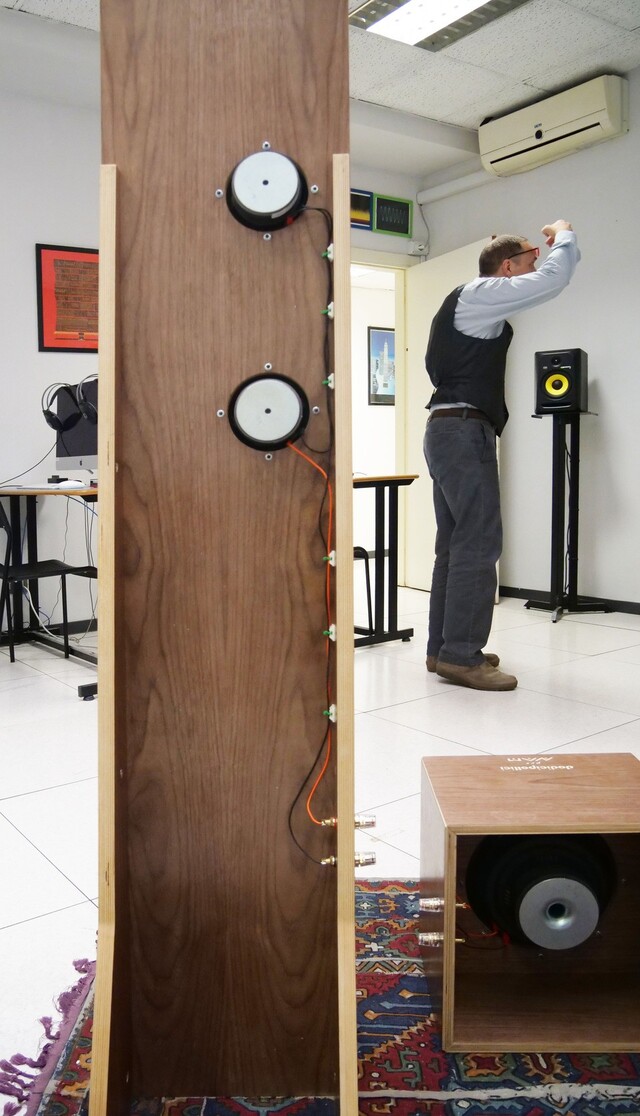 For the realization of Michele's project we opted for the birch plywood veneered, for an aesthetic choice, in Canaletto Walnut wood.
Due to the "open baffle" particularity, a light and at the same time very resistant structure was needed, which left wide space for the sound to go out and circulate in the room but at the same time was able to dampen the vibrations of the speakers and, above all, the subwoofer.
Aesthetically, both elements are very clean and linear.